[vc_row][vc_column][vc_column_text]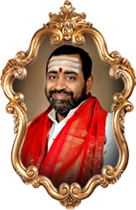 Vande Sree Matharam:
Brahma Sree Samavedam SHANMUKHA Sarma garu is a profound speaker and blessed with wonderful oratory skills on our Sastras , Puranas, Itihasas and Vedas. Sree Samavedam garu started his spiritual journey in his childhood with the aim of protecting the Veda Parampara and also sharing the wealth of knowledge that was gifted to us by our ancient sages and "Rushis". Sri Samavedam's part in protecting the the Veda parampara includes his Discourses, literature in different ways, Dance Ballets, Lyrics and many more. Some of his discourses includes – Siva Puranam, RudhraBhashyam, Siva Leela Vilasam, Sree Krishna Tathvam, Narayaneeyam, Lalitha Sahasra Nama Vybhavam, Sri Vishnu Sahasra Nama Stotra Bhasyamu, Soundharya Lahari and Bhagavatha Sapthaham and the list goes on. His first lecture on "Agni" at the Sivaramakrishna Kshetram in Vijayawada laid the foundation for the endeavor and after that he never looked back. He won many accolades and won many followers during his journey.
Philosophy of his Teachings:
Sree Samavedam garu is called "Samanvaya Saraswathi", for bridging various topics from different Sastras and puranas to the context which is unparalleled. In his teachings, he goes on explaining the meaning of the subject in all the dimensions of bhava ardha , loukika ardha, vedantha and tatvika ardha. Sree Samavedam garu emphasize on "Bharateeya Sanatana Dharma" and tries to instill the values. The discourses of Sri Sarma garu will be so lively that one gets immensely inquisitive to know more and more about the subject.
Rushipeetam: 
Sree Samavedam garu has started "RushiPeetam – Bharateeya Sanatana Dharma Vedika" to channelize his thoughts on spirituality , Vedic knowledge and Bharateeyata through Rushi Peetam – magazine and through TRUST – promoting the contributions of the eminent personalities and vedic scholars in the areas of art, culture and also in the research and development.
Early Life: 
Samavedam garu was born to Sri Samavedam Rama Murthy Sarma & Smt. Ramanamma in 1967 in Asika, Orissa. He completed his B.A.(Hons) in Economics from Berhampur University. The spiritual quest was started very early in his life and his father who himself is a Sanskrit Pandit was his first Guru. Right from his childhood, Samavedam garu was deeply inclined towards spiritual practices and he was frequently seen engrossed in reading the Sastras, Upanishads and Puranas and also seen writing the poetry. The quest of doing something to this society and instilling the spirituality and spreading the Bharateeyata was seeded early in his mind. His meeting with Sadguru Sivananda Murthy transformed his life and with his blessings he set his mission and working relentlessly in sharing the vedic knowledge through his discourses round the calendar throughout the country and abroad.
Lyricist:
Sri samavedam shanmukhasarma started lyric-writing career relatively much later than the contemporary writers, he is rated on a par with the likes of Sirivennela Sitarama Sastry and Veturi Sundara Ramamurthy. He became the most-sought-after lyricist of the season after the release of the movie pellisandadi. Some of the movies for which he had penned the lyrics are Pedarayudu, Pellisandadi, Subhakaankshalu, suryavamsam and it goes on…
Having tasted the nectar of success in cinema field though, Shanmukha Sarma has not become a slave to it. He is able to break free from the shackles of intoxication of success and continue his more arduous pursuits of spiritual development.
" Bharathi Thyagaraja Samman- 2014″
Awarded on 20th of January 2014,at ShanmughaPriya Mandapam, Thiruvaiyaru, by Sadguru Sri Thyagabrahma Aradhana Kainkarya Trust in the presence of Dr V.R.Gowrishankar CEo & Administrator,Sri Sharada Peetham,sringeri.[/vc_column_text][vc_video link="https://www.youtube.com/watch?v=J6-ab0sLyKY" title="About Guruvu Garu"][/vc_column][/vc_row]